Kevin Eagan is Assistant Professor in Residence and Director of the Cooperative Institutional Research Program (CIRP), the longest-running and largest empirical study of higher education in the country. He is also the Managing Director of the Higher Education Research Institute at UCLA (HERI) , where the CIRP surveys are administered. Dr. Eagan's research interests include issues related to undergraduate science, technology, engineering, and mathematics (STEM) education, contingent faculty, student retention, institutional contexts and structures of opportunity, survey validity and reliability, and advanced quantitative methods. He obtained his Ph.D. in Higher Education and Organizational Change from UCLA, his M.S. in Higher Education Administration from North Carolina State University, and his B.S. in Mathematics from Greensboro College.
Dr. Garfinkel graduated from Cornell and received his PhD from Harvard in philosophy and mathematics. He is particularly interested in nonlinear dynamics and its applications to medicine.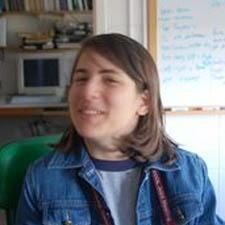 Jane Shevstov is an ecologist and Discipline-Based Education Research (DBER) Fellow at the University of California, Los Angeles.
Erin Sanders O'Leary is an accomplished leader in the development and assessment of innovative strategies for undergraduate STEM education both in the classroom and laboratory. Dr. Sanders earned her B.S. in Chemistry from DePaul University in Chicago, IL in 1998 and her Ph.D. in Biological Chemistry from UCLA in 2005. Her research interests and experience span a variety of life sciences disciplines including molecular systematics of plastid genes in green algae, mechanisms of site-specific DNA recombination in bacteria, and composition studies of bio-energy relevant microbial communities. As a faculty member in UCLA's Department of Microbiology, Immunology, and Molecular Genetics (MIMG), Dr. Sanders pioneered the development of an innovative curriculum for MIMG undergraduates and coordinated the creation of new upper division courses that provide course-based research experiences (CUREs) and apprentice-based research experiences for all MIMG majors. Dr. Sanders is the author of a textbook for the microbiology CURE, has published on her assessment-informed curricular reform efforts, and is a recognized scholar in STEM education.
As the founding director of CEILS, Dr. Sanders works with the Associate Deans Blaire Van Valkenburgh and Albert Courey as well as the Faculty Advisory Committee to coordinate CEILS activities to meet the needs and interests of participating faculty in departments and interdisciplinary programs responsible for instruction of undergraduate courses in the Life and Physical Sciences. By conferring with CEILS participants, leadership, and cross-campus units, Dr. Sanders helps promote and support education and diversity initiatives that strengthen the teaching community at UCLA.
William Conley, PhD, has taught mathematics at UCLA since 2012. He teaches various courses with material covering linear algebra, multivariable calculus, cryptography and differential equations. He has also helped to develop and teach a new course known as the Life Science 30A/B series. Conley was presented with the UCLA Math Department's award for outstanding teaching in 2014 and received the My Last Lecture distinction in 2016.
Professor Blaire Van Valkenburgh holds the Donald R. Dickey Chair in Vertebrate Biology in the Department of Ecology and Evolutionary Biology at UCLA. She is currently the Curator of the Donald R. Dickey Collection of Birds and Mammals and Associate Dean of Academic Programs in the Division of Life Sciences. Dr. Van Valkenburgh received her Ph.D. in vertebrate paleobiology from the Johns Hopkins University in 1984. The focus of her over 110 publications is the biology and paleontology of carnivorous mammals, such as hyenas, wolves, and lions. She is an Honorary Fellow of the California Academy of Sciences and was elected a Fellow of the Paleontological Society in 2013. Dr. Van Valkenburgh has appeared in various television documentaries on prehistoric predators ranging from terror birds to sabertooth cats, and is a leading expert on the evolutionary biology of large carnivores, past and present.